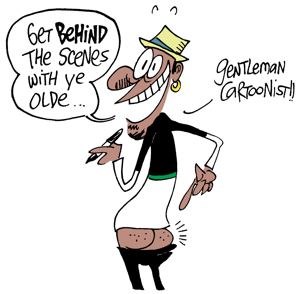 ACHTUNG!!  I AM SHUTTING DOWN THE ROUND TABLE AND URGING YOU TO SUBSCRIBE TO MY WORK VIA
PATREON!!
Why?
For some reason, Paypal was not allowing members subscriptions to automatically renew, no matter how many times I contacted them to help out, it never worked out.
With
Patreon,
I am able to post more material, at any time of the week..so you'll get a steady stream of Keefiness all
week long!
And yes, you will get an email announcement, when I post new material.
"I loved the email! *Two* cartoons! I get (others sent to my inbox) too, but I gotta say yours is my favorite. Happy to be a subscriber after many years of loving your stuff!"
*****************************************
"The best part is getting the behind-the-scenes stories about the "K Chronicles" strips!"
*****************************************
"Just wanted to say how much I love your work.  I'm pretty selective about the internet things that I join.  But I was more than happy to join your Round Table.  You're one of the sites I visit every day in the hopes of something new.  Right now money is a bit tight, but I hope to rejoin at a higher level in the future when feeling a bit more flush."
                                                                       -Satisfied members of the Round Table
I've been lucky enough to celebrate 20 years of being in the business of drawing the funnies, but as you may  have heard, my industry is in the midst of transition. My work is being seen more than ever before, yet my income is shriveling away. In fact, the only reason many of us can continue to do what we do is because of direct support from our faithful readers.
Scoring a sub at Patreon gets you:
Weekly emails containing the K Chronicles, (th)ink and more, before the hit the public!
Musings, sketches, video and more.
The occasional dirty foto.
---
Most importantly, your contribution guarantees that I will continue to bring you the political , social, racial, and funny, unfiltered and without a censor!
Thanks, y'all!! Now–'scuse while I whip this out!! (said whilst pulling big, black marker out of pocket)