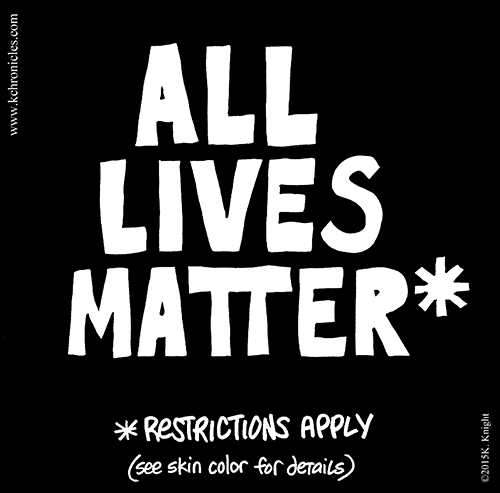 Currently booking for 2017 and 2018, for more details, go here: https://www.keithknightcartoonist.com/
THEY SHOOT BLACK PEOPLE, DON'T THEY?

A Cartoonist's 20 year look at Police Brutality in the U.S.
A  slideshow by award-winning cartoonist Keith Knight
Culled from over 20 years of his award-winning work, They Shoot Black People, Don't They? A Cartoonist's Look at Police Brutality  in the U.S. is a brand-new Power point slideshow presentation from nationally syndicated cartoonist Keith Knight (the Knight Life, the K Chronicles, (th)ink).  Presenting his unique take on the militarization of the nation's police force, and the unchecked killing of unarmed citizens, Knight's cartoons are infused with urgency, humor, satire, politics, and race.  His work is designed to provoke constructive, civil dialogue amongst people young and old, left and right, of all colors and orientations.  The presentation  has been a hit at university campuses all across Germany, where the gentleman cartoonist debuted it in November of 2014.
Now the goal is to bring it to all 50 states over the next two years, starting with California (BCAF in San Francisco- Jan. 2015) and Arkansas (the University of Arkansas- Feb. 2015).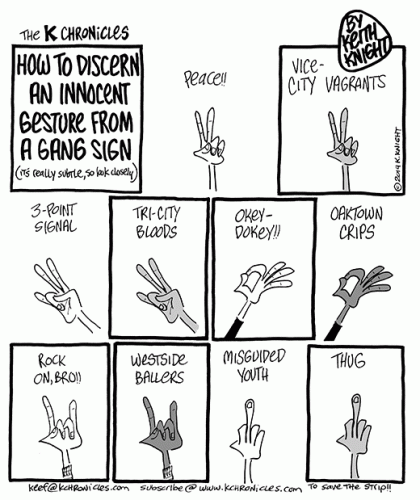 Here's what happens: You fly Keef in, and he wows  your campus/town/school/library or community center with a powerpoint/storytelling presentation showcasing some of his  most powerfully moving, darkest, and funniest cartoons. Addressing  issues of race, police brutality, the justice system,  media, and the importance of social activism— teetering between high brow ideals and low-brow humor.
Words of Praise:
"Keith Knight's slide show presentations are a poignant and stirring mixture of lecture, activist essay and stand-up comedy. Our students especially appreciated Keith's entertaining and charismatic delivery that still never lost sight of the seriousness of his material. This show is a must-see for anyone trying to better understand race-relations, police brutality and the cultural climate for African Americans in the United States."
– Prof. Dr. Peter Schneck, Institute for English and American Studies, Dean of the School for Languages and Literatures, Osnabrück University
"The presentation was searing, moving, poignant, and somehow very funny! The students were quite moved, and the presentation really helped to historicize and to contextualize for them what happened in Ferguson and New York this year.."
-Prof. Aliyyah I. Abdur-Rahman, PhD Brandeis University
"Keith Knight's presentation was lively, thought-provoking and
hilariously funny.    The diverse audience of students, faculty and
staff, and community members loved it.  Keith challenged them with
his unique perspective on critical issues like racism, terrorism, the
media and U.S. politics while managing to keep the laughs
coming.  One enthusiastic attendee told me that the event exceeded
all of her expectations.  We were delighted with the success of the event."
-Jenny Robb,  head curator, Ohio State Cartoon Research Library
"In times of dying newspapers and dwindling opportunities for artists to be published, Keith Knight's slide show tour is a refreshing approach to reaching new audiences. His sharp analyses of current political events, American culture and the ups and downs of everyday life are presented with the seriousness and simultaneously with the ridicule they deserve. Hilarious and depressing, fast-paced and thoughtful, entertaining and enlightening; Keith Knight's presentation will stick with me for quite some time."
-Jens Bonk, PhD Student, Osnabrück University
View more cartoons from the slideshow here.
Check out a 7-minute mini-doc of Keef here.
Previous Appearances:
Central District Forum, Seattle
Hollywood Improv
University of Osnabrueck, Germany
American Library Association National Convention
University of Arizona at Tucson
University of Florida, Gainesville
Maryville College, Tennessee
University of Goettingen, Germany
Alameda County Juvenile Hall
Free University of Berlin, Germany
University of Siegen, Germany
University of Bremen, Germany
Studio Museum in Harlem/Columbia University
Sonoma State University
Cartoon Art Museum San Francisco
Club Voltaire, Tuebingen, Germany
University of North Carolina, Raleigh-Durham
San Diego Comic Convention
State University of New York, Binghamton
Alternative Press Expo, San Francisco
Evergreen College, Olympia, Washington
Afropunk National Tour
McSweeney's vs. They Might Be Giants National Tour
Small Press Expo, Bethesda, Maryland
San Francisco State University
Ohio State Cartoon Research Library, Columbus, Ohio
Staple Small Press Convention, Austin, Texas
University of Illinois, Champaign, Urbana
University of North Carolina, Raleigh-Durham
The Forum, St. Thomas, U.S. Virgin Islands
Google Headquarters
University of South Florida, Tampa
Brooklyn Book Fair

For rates & availability, please contact keef@kchronicles.com or call (310)384-7147.