Is the stuff in the comic strip really true?
I'd say about 90% of the strip is based on actual fact…Whenever I lose a limb or get some sex, it's usually made up.
---
Do you really have an evil twin sister?
Yes. But she's not really evil. Just twin. She lives in Seattle.
---
What kind of pens do you use for the strip?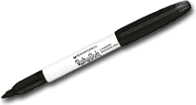 I'm sort of ashamed to say that I use "Rub-a-Dub" laundry markers. These strangely named pens for writing on clothing are put out by Sanford, makers of the Sharpie.
I also use Micron Pigmas…which i think a lot of folks use….size .08 for the main drawings and size .05 for details. I use Sharpies to color in blacks.
---
What type of paper do you use for the strips?
I use Strathmore smooth Bristol. 300 series. 11×14 for the K Chronicles. And I use 110 pound, smooth card stock, 8-½x11 for (th)ink.
---
How far ahead do you do the K-Chronicles strip? The (th)ink strip?
Usually a coupla days before they run!! Although, I'm starting to get a little more ahead. A week, sometimes two.
---
How long does it take you to write and draw a K-Chronicles strip?  (th)ink?
The writing's the hard part. that can take a few days to sort out…but once I've got it, it usually takes about 2 or 3 hours to do a K Chronicle and about an hour to ninety minutes to do a (th)ink.
---
How do I get my newspaper to carry your strip? Should I write, e-mail, or call? How often should I contact them? What should I say?
Send me the publication's info and I'll get to work on it.   A nice , friendly letter or email to the editor of your local rag to politely request that they check out my comic strip is good too. Stalking or threatening them won't amount to much, but if you tell them why you like my strip, they may very well listen to you.
---
I wrote to you!  Why won't you write me back?
I try to write people back, but I'm horribly disorganized.  Sorry about that.
---
How can you make a living with only, like, two papers carrying your strip?
Freelance gigs….Slideshow performances…Reprints…  Sales of original art…  And generous donations to my tip cup!!
---
What is the difference between the K Chronicles and the Knight Life?
In May 2008, I began doing a daily autobiographical strip for United Features Syndicate called The Knight Life, . There are similarities between the two strips (some of the same characters, Life's Little Victories), but there are distinctly different, too.  The K Chronicles is current and like a blog (it's always about me, me ME) whereas the Knight Life is about a year and a half behind and more character driven, like a sit-com.  Yeah–that's it: the K Chronicles is like an indie film and the Knight Life is like a (good) network sit-com. You can check out the Knight Life here.
---
Where are you moving to?
We're not sure yet.  But if you have a spare house or apartment…
---
Do you have any advice for aspiring cartoonists?
Quit now, before it's too late.
Practice. Practice. Practice.
Bring a sketchbook with you where ever you go. Learn what to do from cartoonists you like and what not to do from cartoonists you don't like.
Perseverance.
Don't quit. Use rejection as motivation. Use criticism constructively. Success will come if you can manage to stick it out.
Understanding.
If you want to make a living at this, realize that this is a business. Meaning you have to market yourself. Get in the face of editors. Think beyond the web and printed page by trying to find 'out of the way' venues for your work.
Good Advice


One last thing…if you're getting in this for the $$$, you're in for a big surprise…GOOD LUCK!!
---
What's up with your band, the Marginal Prophets?
We're gonna be playing here and there, so keep an eye out for gigs on the calendar page.
For more info, music downloads, and dirty pictures, check out http://www.marginalprophets.com.
Got a question you want to ask Keef? You can e-mail him at keef@kchronicles.com and maybe he'll post his answer here!