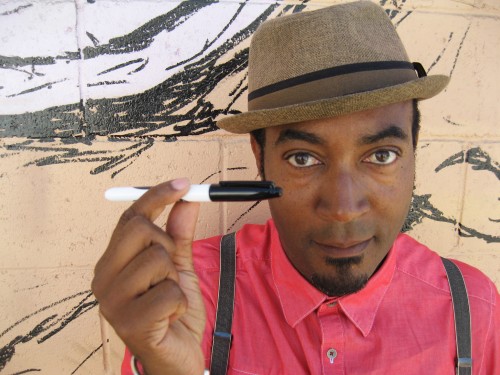 Keith Knight is many things to many people–rapper, social activist, father and educator among them.  He's also one of the funniest and most highly regarded cartoonists in America, and the creator of three
popular comic strips: the Knight Life, (th)ink, and the K Chronicles.
For nearly two decades, this multi-award-winning artist has brought the funny back to the funny pages with a uniquely personal style that's a cross between Calvin & Hobbes, MAD, and underground comix.
Keith Knight is part of a  generation of  African-American artists who were raised on hip-hop, and infuse their work with urgency, edge, humor, satire, politics and race. His art has appeared in various publications worldwide, including  the Washington Post, Daily KOS, San Francisco Chronicle, Medium.com, Ebony, ESPN the Magazine, L.A. Weekly, MAD Magazine, and  the Funny Times .
His comic musings on race have garnered accolades and stirred controversies, prompting the NAACP to recognize him as a 2015 History Maker, and  CNN to tap him to grade America on its progress concerning issues of race.
Two short docs on Keef:
7 mins: https://www.youtube.com/watch?v=DBYlqiMXhYg
3 mins: https://vimeo.com/119904030
AWARDS:
L.A.Weekly 2015 People Issue
2015 NAACP History Maker
Comic Con Inkpot Award for Career Achievement in Comics
Harvey Award for Best Comic Strip
Several Glyph Awards for Best Comic Strip
Three K Chronicles comics were the basis of an award-winning live-action short film, Jetzt Kommt Ein Karton, in Germany. His comic art has appeared in museums and galleries from San Francisco (CA) to Angoulême (France).
BOOKS:
They Shoot Black People Don't They? (Keith Knight Press) 2016
Knight Takes Queen (Keith Knight Press) 2015
The Incredible Cuteness of Being  (Keith Knight Press) 2012
Too Small to Fail (Keith Knight Press) 2011
The Knight Life: Chivalry Ain't Dead (Grand Central) 2010
I Left My Arse in San Francisco (Keith Knight Press) 2008
The Complete K Chronicles (Dark Horse) 2008
Are We Feeling Safer Yet? (Keith Knight Press) 2007
Beginner's Guide to Community Based Arts (New Village Press) 2005
The Passion of the Keef (Manic D Press) 2005
Red, White, Black, & Blue (Manic D Press) 2004
What A Long Strange Strip It's Been (Top Shelf) 2002
Fear of a Black Marker (Manic D Press) 2000
Dances With Sheep (Manic D Press) 1997
MUSIC: Knight was also a part of the seminal nerdcore hip-hop band, the Marginal Prophets. Winners of a California Music Award for their 2nd disc, Bohemian Rap CD, beating out rap heavyweights Paris, Aceyalone, E-40, Too-Short, and Ice Cube's Westside Connection!! Hip-hop music with a punk-rock aesthetic!!
WORLD FAMOUS SLIDESHOW: Keith Knight has performed his internationally  recognized, eye-opening comic strip slideshow on police brutality at college campuses, comedy clubs,  libraries, churches, art spaces and community centers worldwide! He shared the stage with writer Dave Eggers, This American Life's Ira Glass and They Might Be Giants on the McSweeney's vs. They Might Be Giants tour. He also leads many workshops and panel discussions concerning race, health, community-based arts,  media literacy, and making a living as a cartoonist.   For  details, info and bookings, contact Keef at keef@kchronicles.com.
Fun Facts
In 1984, Keith Knight was the official Michael Jackson impersonator of Jordan Marsh, a department store in Boston. He is only slightly embarrassed by this.
Keith Knight was born in Malden, Massachusetts, birthplace of Converse All-Stars, Extreme, and Jack Albertson, from Chico and the Man.
Utne Reader named Knight one of ten "cartoonists to watch" in a special issue
In May 2000, Keith performed naked onstage with his band at the world-renowned Fillmore Auditorium in San Francisco. Supposedly for charity.
Spike Lee purchased an original piece Keith did about his film Do the Right Thing.
the Knight Life: Keef's  nationally syndicated, daily comic strip:
www.knightlifecomic.com
Keef's band:
www.marginalprophets.com

My "evil" twin sister's tea, art, and book shop:
T(ea) Gallery
Interviews with Keith Knight
Keef's Volunteer Work:
Find out when Keef is coming to your town in the calendar section.