*BIG WEEKEND COMING UP HERE IN L.A.!!
on
November 13, 2009
at
10:43 am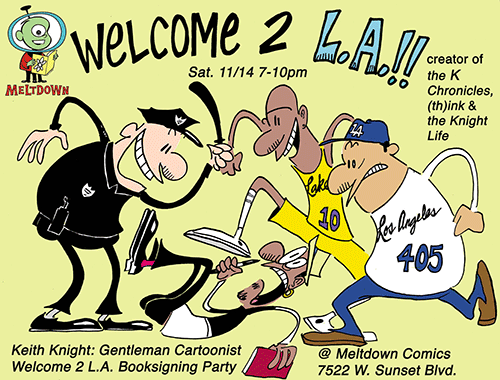 It's my first big signing in the City of Angels!! I will be at MELTDOWN COMICS (7522 W Sunset Blvd, (acroos the street and a block away from Guitar Center) for my "Welcome to L.A." shindig. I'll have art up, a slideshow and BEER!! So git on down there!! (Gifts encouraged!!)
*AFRO-PUNK FESTIVAL..
I just got word that i'll be jumping up onstage at the Afro-Punk Festival L.A. stop at the Roxy on Friday evening. I will be doing a shortened version of my world-famous slideshow just before Saul Williams ("Slam", the Niggy Tardust Experience) performs with his band.
If you ain't hip to the Afro-Punk Festival, get acquainted. It is quite fabulous!!
*LETTER OF THE WEEK..
I don't get too many letters via post anymore, so I always enjoy when I do:
Dear Mr Knight,
I recently discovered your daily cartoon strip The Knight Life. I find it one of the funniest strips produced. You have a solid grasp of society and our individual struggle to find our place in it. You communicate our foibles entertainingly. Thank you for adding a little humor to my day. May you find success in all of your future endeavors.
Sincerely,
S. from Longmont, CO
(nice!!-kk)