*BEHOLD!! THE UNBEARABLE CUTENESS OF BEING!!
on
May 19, 2009
at
8:49 pm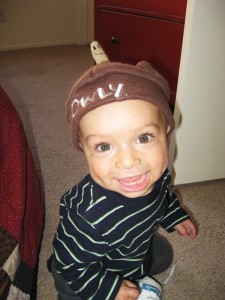 *BEHOLD!! THE UNBEARABLE CUTENESS OF BEING!!
How come you never post pics of yer kid? This is the most asked question of us here at Keith Knight Ink. Well, here you go. And sporting a TopShelf/Owly hat at that!!
*EXTRA!! EXTRA!! KEEF WILL BE FEATURED ON "THE STORY"…
Nice!! One of my favorite shows on American Public Media will be doing an interview with me tomorrow, Wednesday, at 11am. I'll be talking about my career..launching a daily strip and having a kid at the same time…and the downturn of the newspaper industry. Not sure if it will be airing tomorrow night or what. Probably not. Once I find out, I'll post it.
*NATIONAL CARTOONISTS SOCIETY..
is in Los Angeles this weekend for their annual convention. That means every big time newspaper cartoonist will be here. I'm not a member, but I hope to crash the cocktail party like I did in San Francisco a few years back.
I'll also be having a conversation with most excellent editorial and Zits cartoonist Jim Borgman, for the 300th issue of the Comics Journal.
Things are-a-brewin'…